Here are some pictures of the some new portfolios and notebooks that I am playing with.  These are just prototypes and I'll post more as I refine the design.
Update:  Here's a gallery of the first three notepad covers and a shot of the first ones.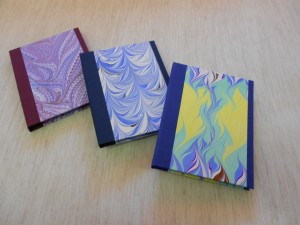 Here are some more portfolios that I've made since I posted the picture above.  I've had great fun with them, combining all sorts of papers – commercial and hand-marbled. Because of the size of the portfolios (9″ x 12″), finding the right papers in the right size with the grain in the right direction can be a challenge.
You can see the complete gallery on my blog posts, Gardens and Accomplished.
Notepads are on my June 1,2012 blog.
The latest addition are mini-notepads which hold small 3″x4″ memo pads.
The blog about the minis is here.
I enjoy working with these because they give me a lot of opportunity to play with color and papers as well as design. My next challenge is how to attach a loop for a pen or pencil.  Something that is elegant and yet works without spoiling the look.
Any suggestions?