It's been a while since I've updated this blog.  My only excuse it that I've been busy, busy, busy. I was away from home for a month, enjoying Washington DC, North Carolina and Texas. They all deserve separate blogs, but I probably won't do that!  I'm going to start with the great time I had back at the John C. Campbell Folk School.
At the Folk School, I took a great marbling course with Pat Thomas.  The theme of the week was "Marbling Around the World" and we tried marbling techniques from various countries.  Japan was the first stop and I tried suminagashi marbling for the first time. It is done with Japanese ink on plain water and gives very different patterns than the usual marbling. The ink is loaded on  brushes and the tip of the bush just touches the water, leaving a bit of ink. Concentric circles are formed by repeated brush touches in the same place.  Once there is enough ink floating on the water, the surface is rippled by blowing on it or by waving a fan lightly over the surface.  There are YouTubes showing Japanese masters making all sorts of designs, even landscapes.  I made lots of circles and a few designs that began to look like something from dreams or nightmares.
As you can see, the colors are faint and look rather like topographic maps. Clicking on the thumbnails helps.  Much more practice is needed for this.
There were five people in the workshop, so there was plenty of space for everyone. Here is the room set-up showing the marbling stations and the drying racks.
Our next stop was Turkey and into the classic stone and get-gel patterns.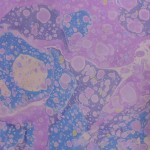 Then on to Spain for some Spanish ripple.
I like some of the 3-D effects this produces, but I need more practice to be able to produce nice even rolls every time. We also did the New Jersey ripple, but mine was a total mess.  I'll try it again in my next marbling session (probably after New Years) and show you what it's supposed to look like, with luck.
France was represented by the nonpareil and French curl patterns.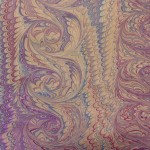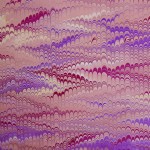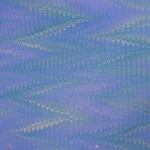 We did a lot of overmarbling, both plain and with masks, but I'm going to save that for a separate blog.
Here's my pile of papers. Now I have to figure out what to do with all of them.  Fun times ahead!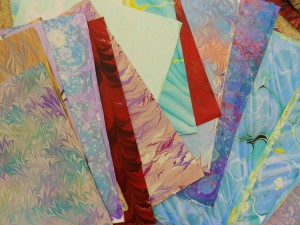 All in all, a great time was has by everyone.