Boxes and Towers
Once I really got into marbling paper, I quickly arrived at the point where I had many more sheets than I could possibly use for my books.
I first started making note cards, but that meant marbling on card stock, which isn't appropriate for books.  So instead of reducing the amount of paper I had, I was creating more!
Several years ago, I took a course at the John C. Campbell Folk School in which we had made boxes from paste papers.  For Valentine's Day the following year, I made everyone in my family boxes  filled with candies.  That was the extent of my box making until a friend saw one in my studio and I gave it to her.  She immediately asked me to make some for her grandchildren in their favorite colors.  She filled them with jewelry and goodies for presents. Thus was born the Treasure Tower.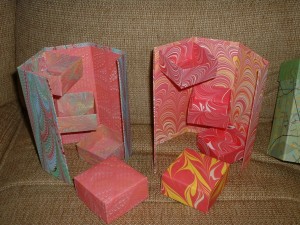 I love the challenge of putting three or four different papers together.  Because marbled papers are so individual, this can be very hard.  Colors from one marbling session frequently don't match the same colors from a different time.  My penchant for using colored papers doesn't help as it radically changes colors.  I have been using a lot of vintage papers and founds papers like menus and maps in my towers just because they are fun.
Folded, the boxes are between 5″ and 7″ tall and approximately 3″ square.  Open, the tower reveals three small trays, just right for holding small jewelry, candies or light-weight office supplies.
More on Making Towers