Busy, busy, busy.  I've been home for almost a month and still haven't been able to do any marbling.  Very frustrating as there were so many techniques that we had a taste of in my marbling class and I really want to spend some time with them.  Now, it looks like I'll have to wait until the new year.
As soon as I arrived home, I had four special order books to finish.  All of them were larger (9″x12″ and 8.5″x11″) than I usually make.  Although the larger size is more impressive, I think I'll stick to my smaller, pocket-sized fare.  I just enjoy them more.  One of the books was a sewn perfect/adhesive binding.  I hate making those, but there was no choice in this case as the pages were photographs.  I did this for a local photographer and he was pleased.  Unfortunately, I didn't think to take any pictures of  the book!  He seems to think other photographers would be interested, but I'm not sure I want to do more.  I'd rather just do a clam-shell box!
Overmarbling
Overmarbling is the technique of taking a dried piece of marbled paper and after applying alum, marbling it for a second time.  When I first learned to marble, I had done some with poor results and felt it was used mainly to try to save a piece that wasn't very good anyway. Here's a poor example of overmarbling: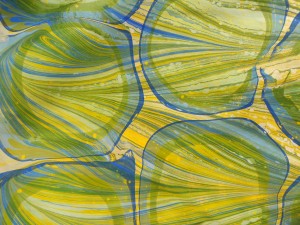 as you can see, it's just a simple get-gel over very large "eggs" or boulders.
This time I learned that, with careful choices of colors and patterns, you can get really spectacular results.  The second marbling can add depth, movement and definition to a piece.
Here are three pieces (above) that worked well.  Click on the thumbnail to enlarge and see if you can trace which colors and patterns are on the top layer and which are on the bottom.
Below are some combinations that didn't work so well!
Although, even with these, there are portions that could be used in collage work or in my boxes or notepads.  It's mainly the large sheet that just doesn't work.
This is by far my favorite piece of overmarbling.  The colors are just right and the patterns compliment and enrich each other.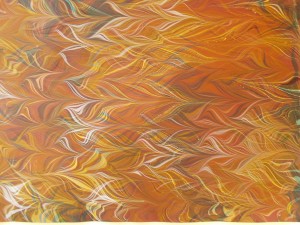 and some close-ups:
Another technique that can be used to great advantage with overmarbling is masking, but that will wait for another blog.
Three more posts on overmarbling: More  Playing  Addendum