Other Pages on Marbling:
Marbling on paper is an ancient art form that was made popular in the 18th century for endpapers on books. To create the designs, I float acrylic paints on a gel-like liquid made from carrageenan, an extract from Irish Moss seaweed. Carrageenan allows the colors to float on the surface where they can be manipulated with marbling rakes and combs into hundreds of patterns, both traditional and modern. The paper is carefully laid on top of the marbled design and the paint transfers to it. Fresh paint must be laid down for each piece of paper, ensuring that each design is unique. Patterns and colors may be similar, but like snowflakes, no two are exactly the same.
The joy of marbling lies in the beauty of the creations and the surprise every time I lift the paper and see the new sheet.
You can see some photos of the process here.   These photos were taken in my studio at the Yates County Arts Center Studio Tour, 2011.
Papers I have made over the past year.
Coming soon:  I pull out the trays and get down to creating more papers to play with!
Here are two of the successful papers from my May marbling.  I'm working on a narrative about the marbling process which I hope to add soon. In the meantime, here's a gallery of my May Marbling Adventure.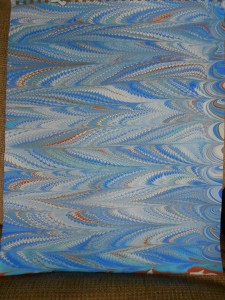 Blog entries on marbling: